On February 2-3, the Leadership Team of the Alliance for Massage Therapy Education gathered at the National Headquarters in McLean, Virginia. The six-member group met with top staff at Coulter Nonprofit Management to continue the process of strategic planning for the organization.
For the members of the Leadership Team, it was an opportunity to learn more about state-of-the-art practices in nonprofit management. And for their part, Coulter staff gained new insight and a broader knowledge about the complex field of massage therapy education. It was this base of shared understanding that propelled discussions on both short-term and long-term planning for the Alliance.
According to Rick Rosen, Executive Director, "Our immediate focus is on signing up new members and registering people for our First Annual Conference in Park City, Utah on June 3-5. At the same time, we will be developing the initial set of resources for members that will be phased in over the next several months. These include the Knowledge Center, a biweekly e-newsletter and online member forums."
Through its partnership with Coulter Nonprofit Management, the Alliance benefits from the wealth of experience represented in the talented and committed people who are part of this company.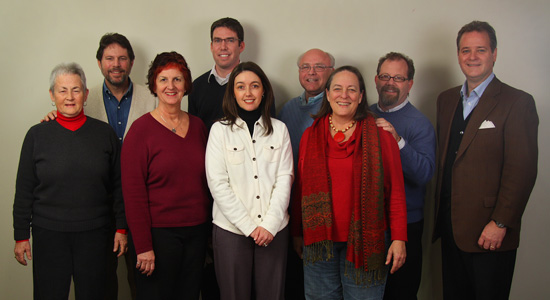 From left: Eugenie Newton, LT Member; Rick Rosen, LT Member and Executive Director; Su Bibik, LT Member; Shane Robinson, Managing Director; Michele Jerome, Coulter VP of Operations; Stan Dawson, LT Member; Iris Burman, LT Member; Pete Whitridge, LT Member; Thomas Gibson, Coulter CEO.