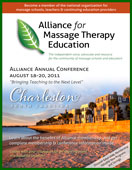 The Alliance has published a new 16-page booklet that features a complete description of the new membership and dues structure, with a focus on the Gold Level Membership Program. This premiere suite of benefits provides significant savings on important services for massage therapy schools, teachers and continuing education providers.
The booklet also provides complete descriptions of the educational program, logistical details and a registration form for the Alliance's second Annual Conference in Charleston, South Carolina on August 18-20, 2011 at the Charleston Marriott Hotel.
With the theme of Bringing Teaching to the Next Level, the focus for this meeting is on how to create a culture of teaching excellence within the field of massage therapy in the coming years. This important gathering of the educational community will bring together directors and administrators from massage therapy schools, along with massage school teachers and continuing education providers.
The Alliance has created an outstanding education program for this three-day event. There will be keynote presentations and discussion forums for all participants, as well as specialized workshops to meet the needs of each of the membership groups that comprise the Alliance. Conference participants can earn up to 15 contact hours of CE credit.
This event has been created to provide valuable learning experiences with some of the leading educators in our field – along with ample opportunities for networking and enjoyment of the beautiful environment. It is the intention of the Alliance to provide a forum where educators feel inspired, nourished and well-informed… where their voices will be heard… and where their input will make a difference. The meeting schedule also allows for time to explore and enjoy the many historic sites, parks, restaurants, galleries and tree-lined streets that make Charleston one of the most loved travel destinations in the world.
A $100 early registration discount is available through July 1. Alliance Members receive an additional $100 discount off the registration fee.
The booklet can be easily accessed by clicking the thumbnail image on the right-hand side of any page on the Alliance website. A digital version of the publication will come up in your browser window. Using the navigation buttons at the bottom of the frame, you can leaf through the booklet, double-click to zoom in, print pages, download a PDF version of the booklet to your local computer. You are welcome to share this with colleagues in your networks.
If you have any difficulty accessing this digital version, you may download a PDF of the booklet by clicking THIS LINK.