First of all, we want to say that it has been a pleasure to serve the Alliance again this year in our role as the Leadership Development Committee. The LDC mandate includes finding candidates to fill Board of Director vacancies, conducting the annual election, searching out talented, qualified members to fill committee openings, and offering support to the Alliance's leadership in any way that our experience can be of help. In selecting candidates for the Board, we begin by conducting needs assessment interviews with all sitting Board members so that we can be clear about priorities and best choices to complement the current group. We verify which incumbents are interested in running for re-election to their seats and which are not. A notification email goes out to all members in which we invite them to come forward as candidates, and we conduct group interviews with all applicants, including those Board members interested in re-upping, before deciding on the election slate we want to present to the membership.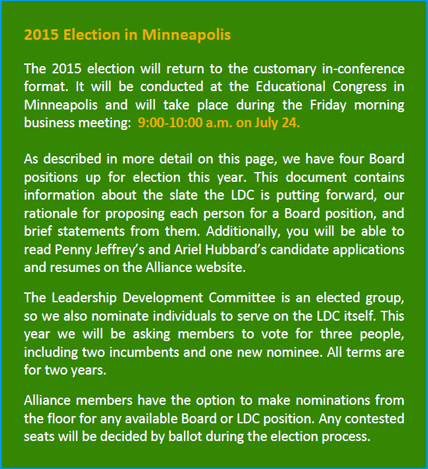 The Board of Directors will bid a fond farewell to Stephanie Beck, who has done an amazing job of taking the Alliance's website, marketing and social media capabilities to new levels during her time on the Board. One of our challenges this year was to find someone with a similar skill set to put forward to fill the gap left by Stephanie's departure. We interviewed two candidates and chose Ariel Hubbard, who also has Stephanie's recommendation for the role.
Some months ago the Board accepted Dawn Saunders' resignation; the LDC was asked to quickly find someone for this vacancy. Fortunately, we were aware of an excellent candidate, Penny Jeffrey, Ph.D., who has an exceptional background in education and who recently qualified as a massage therapist. Pete appointed Penny to finish out Dawn's term – now we are recommending that she be elected for a regular 2-year term.
There are also two incumbent candidates, Eric Polgar and Christa Fratantoro, whose terms are completing this year and who wish to stand for re-election. Both have been serving on the Executive Committee, Eric as treasurer and Christa as secretary, and are very highly regarded by their fellow Board members.
LDC Candidates: Our committee has three openings. The two incumbents whose terms are expiring, Tim Herbert and Tracy Walton, are willing to return. Lisa Curran Parenteau resigned earlier this year due to work pressures, and David Lauterstein was appointed to take her place. David is now standing for election for a regular term.
Debra Curties (Chair), David Lauterstein, Joe Lubow, Tim Herbert, Tracy Walton, Christa Fratantoro (Board Liaison)