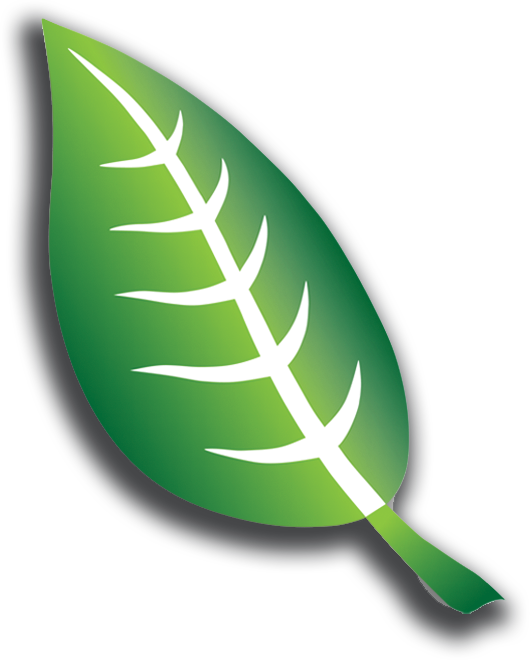 Alliance for Massage Therapy Education 
From the AFMTE Leadership Development Committee: 
2016 Election Process and Slate Presentation 
As always, it has been a pleasure to serve the Alliance in our role as the Leadership Development Committee (LDC).    Our mandate includes searching for and interviewing candidates to fill Board of Director vacancies and conducting the annual election, finding talented, qualified members to populate committees, and offering support to the Alliance's leadership in any way that our experience can be of help. We really enjoy working together as a committee and hope you feel well served!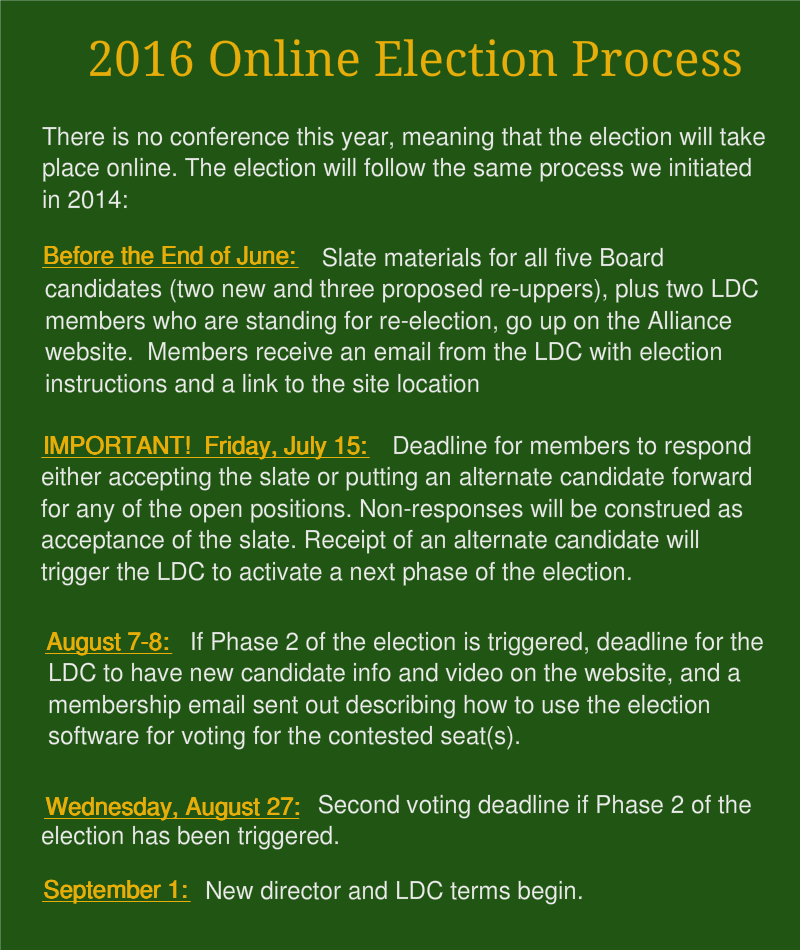 Our present purpose is to put before Alliance members our slate of candidates for the 2016 election. As we have previously communicated, we have three sitting members: Pete Whitridge, Cherie Sohnen-Moe and Stan Dawson who have applied to serve another two-year term. After due consideration we are recommending that they all be re-elected and have included them on our proposed slate.
As part of our initial call for this year's candidates to come forward, we also informed you that Su Bibik, who has done tremendous service on the Board since its inception, had decided not to apply to re-up. We received applications from and interviewed four great candidates. More recently, Gloria Lawrence indicated that pressure of work has caused her to regretfully conclude that she could not stand for another term, making us grateful for the wealth of new applications!
We have chosen two of the interviewed applicants, Beverley Giroud and Karen Hobson, to put forward on our recommended slate to fill these vacancies. Find more about them below.
Each year before we begin the candidate search we conduct a needs assessment survey with all nine current Board members. These interviews provide us with the template we use to select candidates who best match the identified needs.
Please read and consider the slate materials we have prepared for you, and contemplate whether you support our decisions or have different preferences for who should lead the Alliance.  Alliance members are emailed instructions of how to vote or nominate a candidate; please check your email (including spam or junk folder). 
Best wishes for an enjoyable summer!
Debra Curties (ch), Joe Lubow, Tim Herbert, Tracy Walton, David Lauterstein, Christa Fratantoro (BL)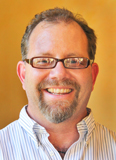 Pete Whitridge – representing Faculty
Pete served as President for the first five years of the Alliance's existence, guiding it through its growing pains, and leading its development into the stable, effective organization it has become. This last year Pete has functioned as Immediate Past President, providing continuity and supporting Cherie in her first year as President. Working as a therapist, instructor, school director and continuing education   provider, all while volunteering with a wide variety of massage organizations over 27 years, Pete understands the massage therapy profession from almost every vantage point.
The LDC endorses Pete's re-election because of his extensive familiarity with the Alliance at every level, his ability to guide and counsel newer Board members, and because of his ongoing commitment to strengthening the organization, with a particular interest in growing the membership. Pete's ongoing service endows the organization with his   experience and wisdom.
Statement from Pete:
I wish to continue serving as an AFMTE Board member for three very important reasons. First, the current Board is working daily to implement our strategic plan and governance policies, work that is foundational for our longevity and future success. I would like to help complete this work during my final term as a Board member. Second, my passion for teacher education requirements grows every day as I work as the Immediate Past President of the Alliance. The Core Competencies for Teachers have been embraced by both COMTA and the NCBTMB and we need to work with our allies to educate replacements for the number of highly trained and skillful educators in our classrooms who are retiring daily. Finally, the people I work with on this Board are the most dedicated and hardworking people in our field. I ask for your vote and continued support over the next two years.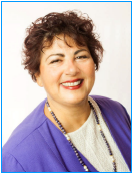 Cherie Sohnen-Moe – representing CE Providers
Cherie succeeded Pete as AFMTE President at the end of last year's Congress, of which she was a primary organizer. A natural leader, with nearly 40 years in the massage therapy profession, Cherie brings an educator's methodology and a CEO's mindset to the position. Author of the bestselling textbooks Business Mastery and The Ethics of Touch, Cherie is highly respected for helping students develop the fundamental skills needed to succeed honorably in the profession. She's equally passionate about helping educators serve those students in every area of their education.
As an effective, hardworking and visionary leader of the Alliance, Cherie has earned the LDC's nomination. Electing her to another term will provide valuable continuity, internally on the Board and with the organization's ongoing work, and externally as she represents the Alliance with other stakeholder groups within the profession.
Statement from Cherie:
It has been my pleasure and honor to serve on the AFMTE Board of Directors, and as President for this past year. We are creating a solid structure to carry us into the future. I am a strong advocate for establishing systems and have been focusing on the administrative foundation needed to manage our organization and provide continuity as it continues to grow and evolve. I would like to play an active role in seeing the projects I've been involved in come to fruition. My knowledge, skills, passion, long-range perspective, and sense of humor can assist us in continuing to build bridges and achieve our mission. The Alliance is the perfect fit for me to continue my own learning and personal growth, while having an impact on the growth of learning in the profession I love!

Beverley Giroud – representing School Owners/Directors
Beverly is Director of Education for the Costa Rica School of Massage Therapy, a COMTA director since 2012, and former chair of NCBTMB's Exam Development Committee. She currently serves on the Alliance's Membership Committee. With certifications in Orthopedic Massage and NMT, Bev focuses on assessment informed treatments and rehabilitation in her practice. The author of Ethics and Professionalism for Massage Therapists and Bodyworkers, Bev demonstrates a deep understanding of the role of introspection, critical thinking and conversation in healthy professional relationships.
Bev is also an engineer with years of experience in project planning and management, administration and finances. The LDC is nominating Bev because she's shown herself to be a big picture thinker, someone with strong organizational acumen, and someone who would welcome and invite constructive dialogue at all   levels of the Alliance.
Statement from Bev:
I began my career in massage therapy 18 years ago. The experience has been more than I had hoped for. What was meant to be a convenient second career that would allow me freedom and autonomy to work while raising my daughter, turned out to be an ever-inspiring and rewarding adventure. I have been fortunate to learn from and volunteer alongside gifted and devoted professionals. Those experiences helped me discover a love of teaching and education, and a passion for our industry. My current positions as Director of Education at CRSMT and COMTA Commissioner have allowed me to focus my efforts on massage therapy education. I would like to continue working to bolster our profession and strengthen our credibility through education. A position on the Board would enable me to have a bigger impact while giving back to the profession that has given me so much.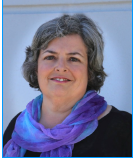 Karen Hobson – At-Large Seat
Currently completing her second master's degree – an MBA to complement her M.S. in Higher Education – Karen continues to challenge herself to gain knowledge and skills in areas of great importance to her. This passion for education has animated Karen's professional life for many years: as a faculty member, curriculum developer, teacher trainer and mentor, participant on interdisciplinary accreditation teams, COMTA site visit team leader, and in her current position as Executive Director of IPSB in San Diego.
The LDC has chosen to nominate Karen because of her broad skill set and her passion for raising the quality of massage therapy education in schools. In addition to her experience in the classroom and in program administration, Karen's MBA-enriched skills in areas of finance, communications, organizational health and analysis promise to contribute powerfully to the Alliance Board.
Statement from Karen:
In 2006 I walked into my first massage classroom as teacher, armed with a textbook and a roster and no other guidance. On my own and with help from a mentor I learned how to create lesson plans, use different delivery styles to reach all students and more. This experience led me to seek out the AFMTE conferences and ultimately to pursue professional training in education. My desire to serve as a member of the Board of Directors of the Alliance is based in my deep belief that massage and bodywork instructors should be better prepared for the classroom than I was. We owe it to future generations of therapists to create instructional standards that will grow and professionalize the field of massage therapy.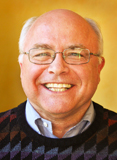 Stan Dawson – representing CE Providers
An original member of the group that brought the Alliance into being, Stan joined the Board at the outset, has served on it since with the exception of a one-year hiatus, and is currently Vice-President. Stan has a strong organizational overview and has been instrumental in enhancing communications between the committees and the Board. His proactive, supportive hands-on approach is appreciated by committee and Board members alike. He is also a member of the Executive, Strategic Planning and Finance committees and a "glue guy" for the organization.
The LDC is endorsing Stan because he leads by example, is a thoughtful consensus builder, and continues to pour significant positive energy into the organization. His approach is aspirational, and he strives to take the Alliance to ever higher levels of efficacy. Stan is one of the keepers of the Alliance's history and mission and a strong advocate of the Alliance's place within the profession.
Statement from Stan:
Fewer students, fewer schools, fewer practitioners challenge the leadership of massage. Part of meeting these challenges is improving massage education to ensure a consistent quality graduate better prepared to give high quality massage and bodywork. To do that, we need educators to be content experts and know how to teach. That is why the Alliance was created and what we are working to accomplish through the National Teacher Education Standards Project (NTESP). I love the passion of the people in the Alliance. We all want to raise the bar in massage education. The Coalition of National Massage Therapy Organizations are urging the Alliance to finish the NTESP.  Please re-elect me to the Alliance BOD so I can help guide the completion of the NTESP as well as the collaboration with the other major massage organizations.

Leadership Development Committee Election
Two LDC members are applying to serve another two-year term:

Statement from Joe Lubow:  It has been an honor to serve on the LDC from its creation as the Nominating Committee at the Alliance's first conference in Park City. As our mandate has expanded, we have made major strides in helping to build an organization. Processes have been put in place, committees have been staffed, and slates of carefully-chosen Board members have been acclaimed by the membership. I feel my years of experience in the classroom, as a school director, bodyworker and committee member/chair in other organizations give me the skills to contribute to the LDC, and through it to the massage education profession. The LDC is an exceptional collaborative group and I would like to   continue the work we have started towards creating a sustainable organization that will serve as the voice, advocate, and resource for massage educators for the long term.

Statement from Debra Cutries:  I find the task of helping match talented people to the Alliance's evolving Board and committee needs challenging and fun. Of necessity the LDC's job includes helping identify and evaluate those organizational needs before addressing them, which is a keen interest of mine. It also involves interacting with inspirationally hardworking, dedicated Board members and committee chairs. As a school owner and instructor, I feel a great satisfaction in being a part of the growth of massage therapy education through this important association. The LDC has developed our relationship and work style over many hours of dialogue and group decision-making. We enjoy working together, are very productive, and it is a pleasure to serve as the committee's chair. I ask for your support for another term.

Watch Interviews of each of the 2016 Candidates below