Are You the Next
2017 
AFMTE, Biofreeze & Bon Vital'
Educator of the Year?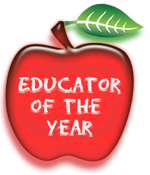 The Alliance for Massage Therapy Education, Biofreeze, and BonVital' are excited to announce that we are accepting applications for the 2017 Educators of the Year Award (1 for a teacher in a school setting and 1 for a continuing education provider). This award honors excellence in massage therapy and bodywork education, and serves to foster a culture that supports raising the standards of excellence in massage therapy and bodywork education. The recipients are chosen based on their experience, teacher training taken, and how well they meet the Core Competency standards that the AFMTE published in 2013. The Core Competency document includes ten standards, each of which describe the knowledge, skills, and attitudes which form the basis for effective and successful teaching.  
4 Steps to Completing your Application
Step 1.  Click most appropriate application button below
Step 2.  Click the download button in the upper right hand corner of screen and save to your computer.
Step 3.  Open the saved document on your computer – complete the form, save the changes.
Step 4.  Email completed application before April 15, 2017 to awards@afmte.org
Each applicant is required to complete an application and return it to awards@afmte.org  on or before April 15, 2017. You will receive an email notification when your completed application has been received. Winners will be announced and contacted directly by June 1, 2017.

Each Winner Receives
1-year Membership (CE Provider or Teacher) in the AFMTE
1 free registration to the 2017 AFMTE Conference
Award
$1,000 Stipend (for travel, lodging, and miscellaneous expenses) to be reimbursed at the conference
Over $250 in FREE Products packages Biofreeze and BonVital'
Meet the winners in person at the 2017 Educational Congress 
If you have questions please email awards@afmte.org  
How to complete the Educator of the Year Application:
---