The Alliance for Massage Therapy Education is an independent organization that has been established by educators, for educators. Recognizing the diverse nature of our field, membership in the Alliance is open to all who work in the many disciplines across the spectrum of massage, bodywork, and somatic therapies.
Membership Categories
As of August 2016, our dues structure and membership options are for Schools, Teachers Continuing Education Providers, Supporters and Allied members:

Allied – $500 membership for companies that provide products and services to the education sector, as well as other stakeholder organizations in the massage therapy field that wish to support the work of the Alliance
Schools – $300 membership for institutions offering entry-level training programs in massage, bodywork, and somatic therapies
Continuing Education Providers – $125 membership for those individuals, businesses, or institutions whose primary educational activity is offering post-graduate training
Teacher/Administrator – $75 membership for instructors or administrators in those institutions
Supporter – $75 Membership –

for

individuals

who support the work of the Alliance. Supporter members

are NOT

teachers, school owners, or CE Providers, but wish to be support the mission of the

AFMTE
When is the best time of year to join the Alliance? ANY TIME!
Your membership year begins on the date you first join the organization, so there's no pro-rating of dues or waiting until the next calendar year comes around. Your annual renewal is due on the anniversary of your original membership. It's pretty simple.
Members are welcome to participate in work on most of the Alliance's Committees, serve as committee chairs, vote in elections, and serve on the Board of Directors and Nominating Committee.

Click the links below for complete information on the benefits of Alliance membership in each category. When you're ready to sign up, click JOIN! You'll be taken to the Alliance's secure web system for membership enrollment and conference registration in the Online Store.

Click JOIN to sign up now with a credit or debit card. This link will take you to an Orientation Page that will introduce you to the Alliance's secure web system.
Those wishing to sign up by mail please call the Alliance Office toll-free at 855-236-8331.
Learn More About AFMTE Member Benefits:
School | CE Provider | Teacher | Supporter | Allied | JOIN
Learn More About Current AFMTE Members:
Allied Member Directory | School Member Directory | CE Provider Member Directory

Already a Member?
Click Me to Download and read
the Terms and Conditions!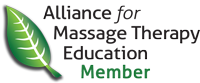 The Alliance wishes to acknowledge the generous support of those pioneering institutions and individuals who stepped forward in 2009 to help launch this organization. Click here to view the Founding Members of the Alliance.